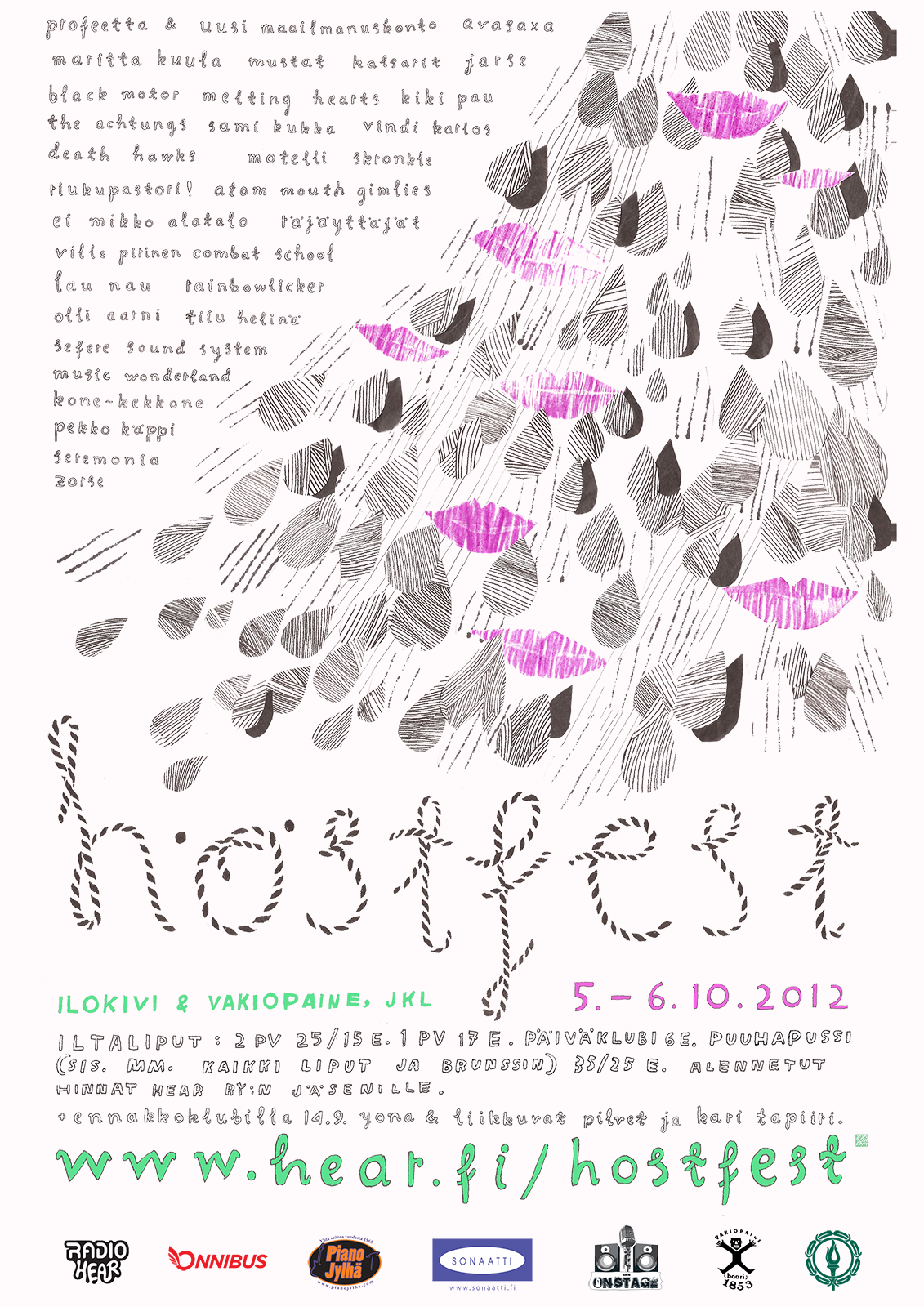 Vierailin viime viikonloppuna undie-musiikkiin (ug ja indie) keskittyvillä Höstfesteillä Jyväskylässä. Osallistuin tähän itselleni entuudestaan tuntemattomaan tapahtumaan vain lauantain osalta, mutta vain jälkimmäisen päivän tarjonta sai fiilisvärähtimet vibraamaan sellaisella tavalla, etten vähään aikaan muista vastaavaa itselleni tapahtuneen. Päällimmäinen huomio Höstfesteistä oli, että
suomalainen 2010-luvun garage punk elää ja voi erittäin hyvin!
Festarit järjestettiin päiväohjelman osalta Vakiopaineessa, jota voi Jyväskylän kävijöille suositella ihan kahvitteluun tai bissettelyynkin. Iltaisin suunnattiin Ilokiveen, joka koostui noin Tavastian kokoisesta alakerrasta, noin Kuudennen linjan kokoisesta yläkerrasta ja mielettömän mahtavasta parvekkeelle sijoitetusta pienestä telttalavasta.
Seuraavat kolme bändiä soittivat jälkimmäisellä. Muutamasta vain hieman päiden tasoa korkeammasta teltasta koottu nurkkaus mahdutti sisäänsä maksimissaan parikymmentä ihmistä, mutta tiiviissä tunnelmassa nautitut raivokkaat keikat tekivät Helsingin vieraaseen ehtymättömän vaikutuksen.
Mustat Kalsarit
Ensikosketukseni mahtavaan telttalavaan oli
Mustat Kalsarit
, kolmehenkinen autotallibändi, jonka raivokas musiikki sai ihmiset silmin nähden fiiliksiin. Ensimmäinen kuulemani biisi kuulosti kuin
Räjäyttäjät
coveroisi
Karkkiautomaattia
, mutta yleisin mielleyhtymä oli
The Stooges
(kuten kieltämättä useimmilla Höstfestin esiintyjillä). Mustat Kalsarit muistutti lyriikoidensa (mainittu #kärpäset #tuomiopäivä jne.) ja erityisesti laulajan epävireisen mongerruksen myötä jossain kohdin kiusallisen paljon
Joose Keskitaloa
. Toisaalta hyvältähän se kuulosti ja liian selvä Joose-vaikutelma katosi kun plagiaattivibaisten hetkien jälkeen bändi yltyi yli kymmenminuuttisiin psykedeelisiin jammailuihin, joihin laulajakitaristi yhdisti taidokkaasti 60-luvun garagehenkisiä kitarasooloja, huutoa ja tarttuvaa riffittelyä. Jossain kohtaa meno kuulosti yllättäen jopa
Jimi Hendrixiltä
Band of Gypsysin aikaan…
Mustien Kalsarien keikalla luulin seisseeni Reginan Iisan vieressä, mutta mitään varmuutta asiasta ei ole!
Atom Mouth Gimlies
Seuraavaksi lavan vallannut
Atom Mouth Gimlies
vei saman garage punkin kaavan hieman hardcorempaan suuntaan erityisesti laulajan huutavassa soundissa. Myös psykedeeliset vaikutteet näkyivät moneen otteeseen junnaavassa kompissa. Jossain kohtaa tajusin jammaillessani, että bändi kuulosti aivan kuin soittaisi
Pixiesiä
liian kovalla nopeudella levysoittimesta.
The Replacements
- ja
Ty Segall
-diggarit varmasti olisivat löytäneet musiikillisen kotinsa Atom Mouth Gimliesin mainiota keikalta.
Yhtyeen musiikkia on näköjään saatavissa
C-kasettimuodossa
. Suosittelen!
Yhtyeen keulakuvasta tuli muuten hupaisan paljon mieleen nuorentunut ja rotevoitunut J Mascis!
The Achtungs
Telttalavan, viikonlopun ja itselleni koko syksyn kovimman keikan veti tamperelainen
The Achtungs
. Tiesin entuudestaan bändissä soittavan jotain tutun tuttuja ja päätin jäädä odottelemaan alkua, vaikka heput olivatkin jonkin verran myöhässä. Lopulta paikalle saapuu Matti Johannes Koivun näköinen basisti, Buzzcocks-paitainen rumpali ja kiltihkön näköinen laulajakitaristi bisset kädessään. Hillittyjä kavereita ilmeisesti. Väärä mielikuva.
Virittelyjen jälkeen laulajakitaristi kaatoi loput Koffistaan hiuksiinsa ja aloitti raivokkaan soitannan. The Achtungsin upea musiikki kuulosti paikoin Ty Segallin punkeimmalta tykitykseltä,
Reatardsilta
ja muilta vastaavilta räminäpäiltä, mutta enimmäkseen sen soundi oli vain sitä itseään. Kitarasoolot olivat ylivoimaisesti festarien parhaat.
Viimeisen biisin intron jälkeen laulajakitaristi tarttui mikkiin ja pyysi yleisöltä yhden oluen. Tämän saatuaan tyyppi raotti housujaan ja kumosi lähes täyden tuopillisen viilentämään genitaalialueitaan! Siitähän riemu ratkesi ja seuraavan kymmenminuuttisen aikana nähtiin mm. mikrofonin hakkausta päähän, yksi rikottu vihreä jänisvalaisin, kitaran hakkausta, kaikki soittajat levällään rumpusettien päällä. Ja kyllä, upeat kitarasoolot jatkuivat koko tämän ajan.
Pakko valitettavasti sanoa, että tämän pläjäyksen jälkeen ei jaksanut katsoa Räjäyttäjiä kuin pari biisiä. Muussa yhteydessä keikka olisi ollut varmasti keskivertoa parempi, mutta Achtungsin jälkeen se ei kuulostanut enää kuin Popedalta vetämässä garagebiisejä.
Garage-meiningin lisäksi Höstfesteillä nähtiin laaja valikoima muunkinlaista valtavirralta piileskelevää kokeellista musiikkia. Yksi mieleen tallentunut tärppi oli
Melting Hearts
, jonka keikan absurdi tunnelma olisi mahdoton tiivistää tyhjentävästi sanoiksi. Tyydynkin listaamaan tähän keikan aikana kännissä ystäväni kanssa kirjoitetut muistiinpanot: Hunter S. Thompson / painajaiselvis, syntetisaattori ja saksofoni, Viking Line -estetiikka, laivan karaoke. Ihan vitun hyvä avaruuksinen viba, diskohenkinen bassokomppi kova. Ihme kasari talk show, aurinkolasit päässä, office-vaatteet, vähän safaria. Kuulostaa Totolta.
Suosittelen lämpimästi Höstfestiä.