Tuli TÄNÄÄN postissa: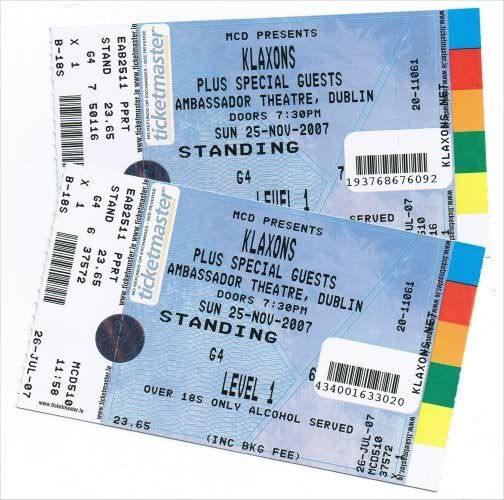 Jep, toisessa Dublin-osiossa käsittelen keikkaa Ambassadorilla. Liput eivät tosiaan koskaan ehtineet ajoissa, ja epäilen että ylläkuvatut liput lähetettiin vasta viime viikolla, kun olin soitellut useaan otteeseen niiden perään. Anyhow, päästiin sisään. Listalla, Klaxonsin listalla.
Koska ei pahemmin ollut Dublinin keikkatavoista tietoa, missattiin eka bändi. Enää ei harmittanut, että Simian Mobile Discon tilalle oli tullut X-Vectors. Tuon neverheardin missaaminen ei nimittäin kirpassut yhtään. Crystal Castles oli aikamoinen bailubändi. Soittivat oman remixinsä Klaxonsin Interzonesta, mikä tuli aikamoisena positiivisena yllärinä. Tuntui kuiteskin, että 90% yleisöstä ei oikein ymmärtänyt bändiä. Se yleisö ny oli muutenki aika vammasta.
(Yleisö oli siinä mielessä positiivinen ylläri, että edellisen illan perusteella olisi voinut odottaa vaikka minkämoista katastrofia. Oli meininkiä, aina siihen asti että neljä ensimmäistä riviä oli hyvin puristuksissa. Sopi meikälle kyllä siinä 2-3 rivissä, kun painetta ei ollut liikaa, mutta ei älytöntä new rave -pittiäkään, joten pysty kuviakin ottaan ja rauhassa katteleen. Biisien sanat oli hallussa hittibiiseistä, ja muuteski meno selkeesti rauhallisempaa, kun pojat soittelivat ei-sinkkuja. Jengi oli aika kännissä päätellen siitä, että vierustoverit _söivät_ glow stickkejä...... Miinukset yleisön suuntaan kuiteski siitä, ettei dublinilaiset selkeestikkään osaa encoren vaatimista. Muutama laulo sitä yhtä jalkapallo-otteluista tuttua laulua ja joku huusi että "One more, please". Yritettiin Jannin kanssa saada jotain huutoa aikaseks, mutta jengi ei lähteny mukaan.)
Klaxons oli aikalailla just sellane ku odotinki. Wanha ja nähty, mutta loistava tietty. Sama settilista, sama lavashow - lukuunottamatta sitä, että tällä kertaa James ei hypänny mun kätösten siliteltäväks. Ne pysy kaikki lavalla koko keikan. Livekunto oli kyllä parantunu huomattavasti näiden viiden kuukauden aikana. Biisit kuulosti jopa hyviltä livenä. Sen lisäksi että kundit olivat oppineet soittamaan, biiseistä oli tehty uusia keikkasovituksia. Esimerkkinä vaikka tuo Gravity's Rainbow, jossa on ihan selkeesti nopeampi tempo kuin levyllä. The Bouncerisa oli myös eri sovitus kuin viimeksi. Livekunto siinäkin mielessä, että Jamie oli selkeesti laihtunut.
Settilista oli about tämmöne, suurinpiirtein järjestyksessä ainaki:
The Bouncer
Atlantis to Interzone
Hall of Records
Totem on the Timeline
Golden Skans
As Above, So Below
Two Receivers
Magick
Gravity's Rainbow
Isle of Her
It's Not Over Yet
----
Four Horsemen of 2012
--
!! Saatto soittaa Forgotten Worksinki, en oo ihan varma !!--
Kuvat:(Löytyy Flickristä isompinakin versioina.
http://www.flickr.com/photos/foonk/tags/klaxons/
)
Oma suosikki ja meikän nykyinen työpöydän taustakuva. Suosittelen kattoon ainaki tästä isomman version.
Gravity's Rainbow livevideo:
http://www.youtube.com/watch?v=hjFR17Z8q5g
Mahtavaa.