Nyt pitäisi olla lukemassa kovaa vauhtia pääsykokeisiin, ja mikä olisikaan parempi pakokeino velvollisuuksista kuin tänne kirjoittaminen. Koska aika on kortilla sekä luku- että kirjoitusajan suhteen, heitän muutamia nopeita mielipiteitä viime aikoina ilmestyneistä levyistä:
MattiP: Save the King
(cd/10")
- Varmasti yksi vuoden kovimmista julkaisuista, jonka biiseistä jokainen uusi on napakymppi.
KING
:istä päälle vielä papukaijamerkki. Joillekin jo ennestään tutuissa kappaleissakaan ei ole mitään vikaa ja ne on upotettu kokonaisuuteen yllättävänkin saumattomasti.
YUP: Vapauden kaupungit
- Ei oikein iske, ainakaan heti. Tuttua YUP:ta, joka ei tarjoile mitään uutta. Muutamia joukosta erottuvia biisejä, mutta tällä hetkellä tuntuu huonommalta kuin vaikkapa viimeisin edeltäjänsä. Lukuisat lisäkuuntelut, haastattelut ja live-kokemus saattavat avata materiaalia.
Crystal Castles: Crystal Castles
- Hypetetty duo, jonka debyytti ei tarjoile mitään uutta, jos on seurannut hypetystä pidemmänkin aikaan. Demoilta ja sinkuilta tutuista kappaleista osa on kokenut uudelleensovittamista, välillä onnistuneesti, välillä vähemmän onnistuneesti. Paikoitellen CC:lle ominainen säröinen soundi on jopa siloiteltu pois, mistä en ilahtunut. Välillä menee liialliseksi kikkailuksi. Jos bändi on uusi tuttavuus, suosittelen tutustumaan. Itse biiseissä ja bändin omaperäisessä soundissahan ei siis mitään vikaa ole, päinvastoin! Yhdyn hypetykseen.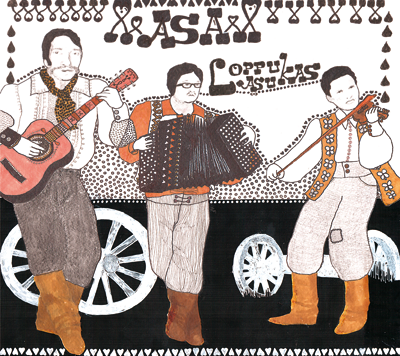 Asa: Loppuasukas
- Herran tähänastisen uran paras levy, ehkä jopa paras suomalainen hip-hop levy. Voisin antaa pelkästään maanläheisistä kansanmusiikista lainailleista taustoista täydet pojot, mutta myös sanoituksien puolesta mm.
Davidsm
aiheuttaa minussa megalomaanista ihannointia. Ei sillä, että ymmärtäisin tälläkään levyllä puoliakaan, mitä Masa räppäilee, mutta tässä kappaleessa on tehty jotain ennenkuulumatonta.
Reino & The Rhinos: Tähän tyyliin
- Toivoin tämän tulevan puun takaa ja tönäisevän kumoon niin kuin
Raappana
viime vuonna teki, mutta tämä jättikin olon tyhjäksi. Harmillisen tylsä ja väritön levy. Ei huono, muttei tästä löydy mitään ihmeellistä.
Guillemots: Red
- Kokonaisuutena ei yllä edeltäjänsä tasolle. Levyllä on kuitenkin tehty rohkeita ja odottamattomia ratkaisuja, ja ällistyttävän hyvät hittibiisit (vrt.
Trains to Brazil
,
Annie Let's Not Wait
) löytyvät tältäkin Guillemots-levyltä:
Kriss Kross
&
Get Over It
.
Nyt kipin kapin kirjan ääreen. Yritän pysytellä siellä pääsykokeisiin eli ensi keskiviikkoon asti, mutta sikäli mikäli pääsen huomenillasta katsomaan
Stepaa
ja ylihuomenna
Errorsia
, keikkaraporttia on luvassa varmasti viikonlopun aikana. Todennäköisyydet tälle ovat korkeat, sillä kotona en enää käytä sauvoja ollenkaan, vaikka liikkuminen onkin vielä lähempänä ontumista kuin kävelyä.