Facebookin vastineet kiertoviesteille ja kaikenlaisille memeille ovat varmasti käyneet tutuiksi kyseisen sivuston käyttäjille tämän vuoden puolella. Yksi, johon kiinnosti osallistua ei kuitenkaan päätynyt Facebookissa eteenpäin, koska en ole koskaan pitäyt ihmisten häiritsemisestä erilaisilla turhilla kutsuilla tai tägäyksillä. Siispä listaan "15 elämäsi muuttanutta levyä" tänne, ja annan lyhyet perustelutkin vielä kylkiäiseksi. Levyt ovat kronologisessa elämänmullistamisjärjestyksessä, ja sulussa olevat vuosiluvut merkkaavat levyn julkaisuvuotta.
1. Hassisen Kone - Historia
1980-
82 (1982)
-Eka levy jota muistan fiilistelleeni, jos jätetään laskuista pois Disney-soundtrackit ja Tenavatähti-kokoelmat...
2. Spice Girls - Spice (1996)
-Vei elämästäni melkein pari potentiaalista musavuotta keskittäessäni lähes kaiken musiikkienergiani tyttöenergiaan.
3. Prodigy - The Fat of the Land (1997)
-Hoksasin, et on muutakin olemassa ku Spaissarit, minkä jälkeen suurin idolini olikin tovin Keith Flint. Myöhemmin hoksasin palvoneeni täysin väärää jätkää tästä bändistä.
4. Tehosekoitin - Köyhät syntiset (1997)
-Tehiskausi jatkui kaiken muun rinnalla hyvin voimakkaasti seuraavat viisi vuotta.
5. Pöly - Pöly 12" (1999)
-Epäilyttävän katu-uskottava valinta, mut tää oli ensimmäistä suomi hip hoppia jota kuulin, 4 real. Hehkutin tätä kaikkiin kirjevihkoihin, jotka mulla oli.
6. The Hellacopters - High Visibility (2
000)
-Takas rock'n'rollin pariin. Mulla oli tosi kova The Hellacopters/The Flaming Sideburns/Gluecifer yms -fanituskausi.
7. At the Drive-In: Relationship of Command (2000)
- Kuulin, hurahdin ja parahdin ku heti hajos perään. Tätä kautta lähti myös The Mars Voltan, joka on mahdollisesti vaikuttanut minuun vielä enemmän, mutta jota en aio erikseen mainita.
8. Abduktio - Kolme iskua globalisaation selkärankaan (2001)
-Löysin punkin, teinianarkian, punk-piirit, squattien demobändit, kiljun, revenneet farkut ja kokonaan uuden suhtautumistavan elämään.
9. Radiohead - Kid A (2000)
- Aikani riehuttua rauhoituin löydettyäni Radioheadin uudelleen ja ymmärettyäni sen ainutlaatuisuutta paremmin, minkä jälkeen ei ollut enää paluuta. Tämä tapahtui 2002 vuoden alussa.
10. Disco Ensemble - Viper Ethics (2003)
-Pikidipam, 20. nähtyä keikkaa vuosina 2004-2005 terveisin kiertelijä. Taisin olla kovakin fani.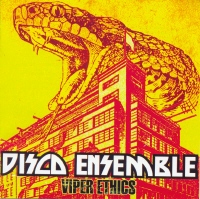 11. Mew - Frengers (2003)
-Näistä levyistä nynnyin. Vaan ei voi kieltää, ettenkö ois itkenyt Mewin keikalla 2003 Ruisrockissa... Mewin kautta varmaankin löysin kaiken muunkin nynnyindien.
12. Circa Survive - Juturna (2005)
-Oli sellanen fiilis kuin kaikki lempparibändit ois tuupattu yhteen pakettiin.
13. Klaxons - Myths of the Near Future (2007)
- Vaikka virallinen julkaisupäivä olikin tammikuussa 2007, Klaxons muutti elämäni jo edellisen vuoden puolella. New rave näkyy pukeutumisessa tänä päivänäkin, vaikkei puhtaasti... Enemmän Klaxons on kuitenkin vaikuttanut musiikin saralla ainakin siinä mielessä, että Myths of the Near Future on Last.fm:n mukaan ylivoimaisesti kuunnelluin levyni.
14.Ceebrolistics - Ö. ep
(2005)
-Löysin Ceebrolisticsin kunnolla, vaikka olinkin tasasin väliajoin fiilistellyt aiempaa tuotantoa (+ muita projekteja). Ö:n myötä lähti lapasista diggailu. Se kuitenkin vaati aikansa, sillä levy lojui hyllyssä lähes koskemattomana miltei vuoden julkaisupäivästä. Nyt voin vain kysyä itseltäni miksi.
15. Justice - Cross (2007)
-Muuttui elämä aika electrojumputukseks tämän myötä.
+ Tässä on ihan selkeästi ollut jo pidemmän aikaa jonkinlainen muutos meneillään kaikenlaisen dubstepin ja teknon suhteen, mutten osaa ainakaan vielä sanoa mitään yhtä levyä, sillä muutos on ollut enemmän biisikeskeistä. Ei sen puoleen että pystyisin yhtä ainutta 12-tuumaistakaan mainitsemaan.