Huh, mikä reissu. Tapahtu taas hulluja juttuja, ihan käsittämättömiä. Perusasiat kunnossa ja kaikki oli vaan plussaa. Seistiin tien varressa koko reissulla yhteensä joku puolisen tuntia, ja muutenki - neljällä kyydillä Lahden kautta Mikkeliin ja takas, harvoin käy noin hyvä tuuri.
Joo, Lahti oli yllättävän hyvä mesta. Hengailtiin jossain puistossa Tonin ja Lauran kanssa, kunnes sitte tyypit vaihtu. Vaikka pitikin nukkua taivasalla, päädyttiin sitte Jennyn kanssa Mukkulaan jonnekin huumelaboratorioon yöks. 77,5 neliön kämppä, ei huonekaluja, kaks pöllittyä patjaa ja kaks pöllittyä pyörää.
Taipuva luotisuora
taustalla ja jannujen tietokoneella valokuva, mis meikä oli. Helvetin outoa, mut rentoo kyl.
Jurassic Rock meni kans putkeen. Oli ehkä valehtelematta kivoin suomalainen festari, missä oon käyny. Jengii oli aika vähän, mikä oli kyllä lähinnä positiivista paitsi
Trail of Deadin keikalla
. Väljää, ihanat kelit, uusia naamoja, vanhoja naamoja, hyviä keikkoja (paitsi
Rubik
, koska soundit kusi) ja sitä kaikkee rentoutta, mistä ei tarvii edes kertoa enempää, koska se on useimmilla festarilla samaa.
Kai sitä vielä vois sen verran kertoa yksityiskohtiakin, et meikä mm. konttas anniskelualueella ja haukku (mulle annettiin tehtäväks esittää koiraa), otti räppibattlee, kulki leirinnässä huomioliivi päällä esittämässä järkkäriä ja kattelemassa ihmisten lappuja (yritin löytää alaikäsiä, joilta ottaa alkoholit haltuun), kaatuili ja otti turpaan
Raised Fistin
keikalla, löi Vesaa - ja vaikka mitä kaikkee, tommosta perussettii meikälle. Nii joo, ja sain myös ...And You Will Know us by the Trail of Deadin plektran!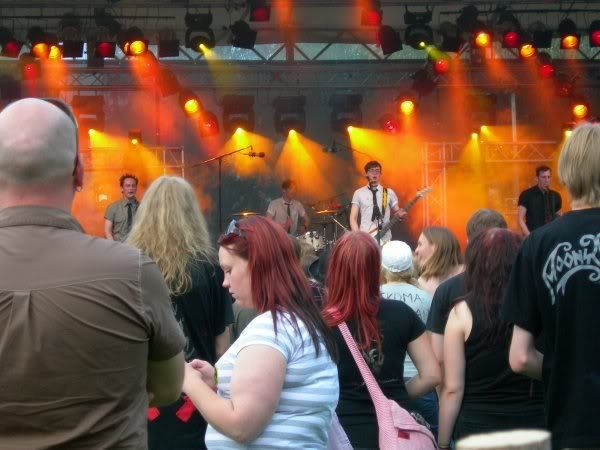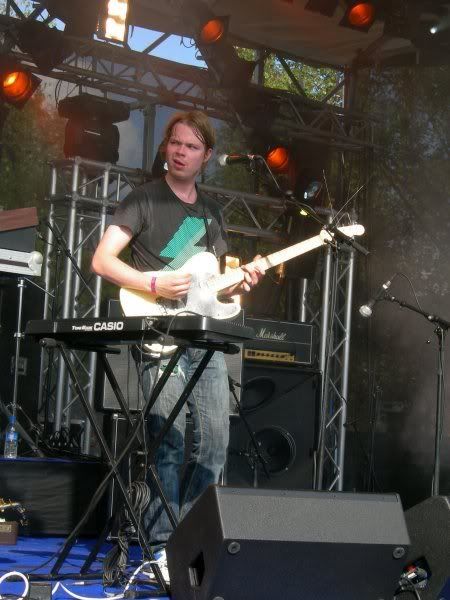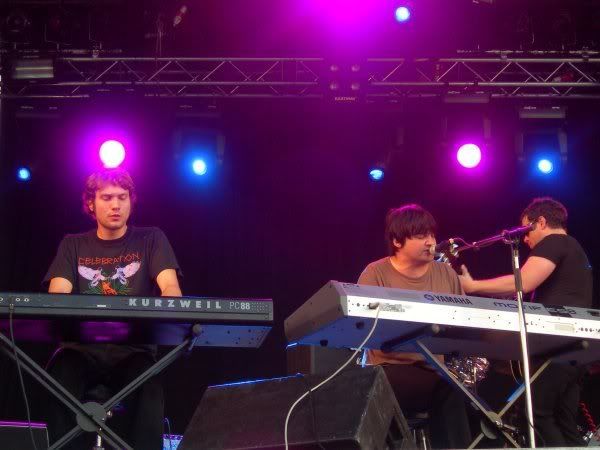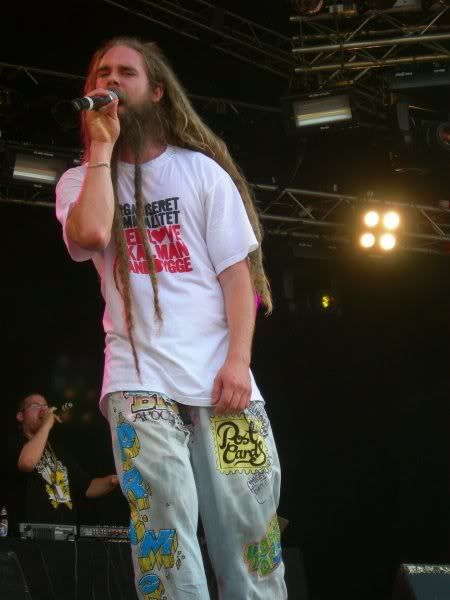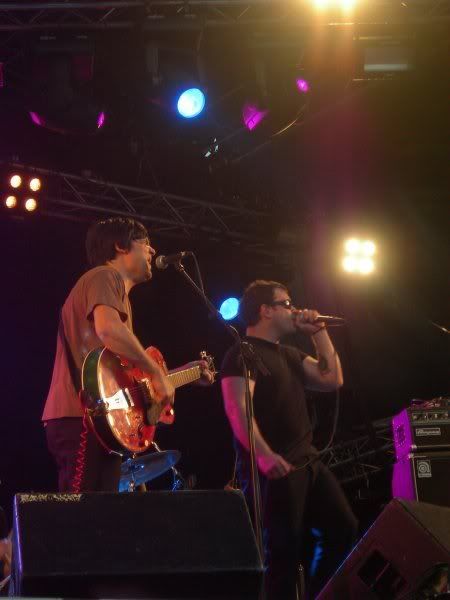 ...And you will know us by the Trail of Dead (joka oli kyl festareiden paras, huhuhuu vitun hyvä taas. Settilistat kuosissa ja muutenki. Oisin kyl toivonu et ois keikka alkanu niinku Helsingin jäähallil viimeks, meinaa intro + Will you smile again for me - mut kyl ne sieltä silti tuli molemmat)